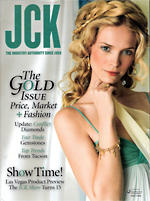 Tuscon Report: Eight Trends in Tucson
1. Sunstone. The most-talked-about gem was sunstone from two sources: the original Ponderosa claim in Oregon and a new find in Tibet.
Material from the Ponderosa Mine - which many believe is the source of the finest of all Oregon sunstone - was available again after a few years' hiatus. After the death of mine owner Larry Gray in 2001, the mine lay dormant until last year when it resumed production. Desert Sun Mining and Gems, Depoe Bay, Ore., is in the process of completing a purchase agreement that could eventually give it sole possession of the property. Estimated yield is 20,000 carats per year, for up to one hundred years.
Photo caption with article: Gems are available again from the reopened Ponderosa sunstone mine, in reddish oranges, oranges with and without schiller, yellows, some greens, and multicolor, from Desert Sun Mining & Gems, Depoe Bay, Ore.