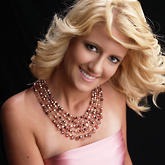 Wade's Necklace On
Model Christy Miller
"Put Sunstones On Your List!"
DEPOE BAY- If you haven't seen examples of Oregon Sunstones, you're in for a treat! These beauties bring a whole new dimension to the fine jewelry marketplace!
And shoppers of the "World's Smallest Harbor" don't have to go far. The gems are on display both as loose stones and set jewelry pieces at Blue Heron Gifts and the Silver Heron Gallery.
Oregon Sunstones are big news in the gem and fine jewelry markets. Talley Woodmark, the company's vice president of marketing is constructing a Web site and preparing a national marketing campaign featuring Christy Miller, a Woodmark cousin.
Local business impresario John Woodmark began dabbling in the sunstone marketplace years ago. When he saw the potential market for the gems, he got serious and purchased 60 acres of mountainside 40 miles northwest of Burns.
For the first few years, John would take a group to the mine and work it by hand. This yielded about 30 kilos of raw gemstones a week. As other investors came on board, the company purchased $100,000 in heavy equipment and got down to business. The yield is now up to 50 kilos a day.
In 2006, Jerry and Eileen Dummolt, Bruce Moore and Gene Hatlelid were in charge of mining operations. Dr. Dorsey J. Talley, a retired vice president from General Dynamics, flew in from Texas to lend his expertise. Mike Crabtree and Andrew Foster of Depoe Bay lent a hand in sorting the rough sunstones.
The purchase of dry and wet trommel equipment greatly enhanced production. The dry trommel sorts out the dirt and sand from the raw composite of sunstone and other materials. The concentrate is then run through the wet trommel to make sunstones easier to spot in the composite. The dry trommel was designed by Rich Day, owner of Advantage Precast in Salem. Day built the dry trommel from the ground up.
Oregon Sunstones have a long history as items of value. They were used as barter goods by Native American tribes stretching east to the Mississippi. Hardness is a factor in determining value. Oregon Sunstones are about as hard as emeralds and are far denser than sapphires and rubies.
Sunstones span the spectrum in terms of color range. They appear in shades of clear, yellow, pink, orange, red and green. Bicolor and tricolor stones also occur and some are embedded with pure copper particles for an added attraction.
Red and green are the rarest colors. If it hasn't been sold, the Blue Heron has a red stone set in a ring that must be seen to be believed! It is far richer and deeper red than any ruby could deliver. Make the women in your life ecstatic this holiday season with a gift of Oregon Sunstones by visiting the Blue Heron Gifts or the Silver Heron Gallery. Stop by today - she'll be glad you did.