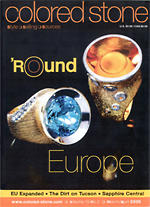 "Sunstone Back in the Light"
Oregon sunstone from the Ponderosa Mine in Plush, Oregon, is once again hitting the market after a long hiatus.
The mine was purchased by Desert Sun Mining & Gem Company two years ago from the widow of the former owner. "Since then, we've been digging, trying to get enough out of the ground to get it cut so we could show people," says Bruce Moore, executive vice president of Desert Sun. "We have enough now to go commercial."
Oregon sunstone is best known for its "schiller," where copper platelet inclusions create a shimmery, adularescent effect inside the gem. The sunstone mined at Ponderosa ranges from red to light yellow to blue-green, with about 15 percent of the stones showing strong schiller. The size generally ranges from 3mm to 8mm rounds in calbrated cuts, with individual stones going higher.
The Ponderosa property extends over approximately 60 acres, although currently Desert Sun is only mining in one location. Moore says that in the summer they plan to set up a mechanized operation capable of producing 200,000 carats of cut material per season - potentially more, if a volume supplier shows an interest.
Desert Sun launched their production at the 2006 Tucson gem and jewelry shows. "We have a lot of people asking what it is. The biggest problem, as with any 'new' stone, is that people don't know it," says Moore, adding that up until now, most Oregon sunstone has only been mined in very small quantities. "Now you'll see a lot more."